Achieve Sew Inspiration with Bernina & Cathy Wright
---
Published by SewingMachinesPlus.com on May 15th, 2019 6:30am.

---
---
Events Coming Soon To SewingMachinesPlus.com
.
Join Us For This Sew Inspiring Event!
 SIGN UP BEFORE MAY 18, 2019 AND RECIEVE A FREE GIFT!
Bernina Sew Inspired Hands On Event With Cathy Wright
June 18-19, 2019 at SMP

San Diego, CA

9AM-5PM

or
June 20-21 at SMP

San Marcos, CA

 9AM-5PM
In this class, you will be getting explore the features of the Bernina 590, 790 and 880 machines with Bernina Expert, Cathy Wright. Here Cathy will show you how you can use the Bernina 590, 790 and 880 to create 6 beautiful and exciting projects. Get a hands-on educational experience with your machines. Explore new features, techniques and concepts from an industry professional. Limited seating only, don't wait out on an exciting one of a kind learning experience.
LAST CALL FOR SAN DIEGO REGISTRATION
Learn the ins and outs of long arm quilting from two incredible Handi Quilter Instructors on industry leading Handi Quilter Long Arms Machines fitted with the best computerized quilting system, the HQ Pro-Stitcher.
 Purchase a new machine during the event and your class fee will be put towards a discount on your New Machine!!!
Handi Quilter Seminar with Gina Siembieda and Kimberly Sandberg
Cost: ONLY $99 for Day 1, $149 for Day 2, $149 for Day 3. Take all three for $299, SAVE $100!
May 17-19, 2019 at SMP

San Diego, CA

 9AM-5PM
RESERVE YOUR SPOT TODAY!
Choose from 3 Days! Mix and match! Choose one class Or take all three!!
 Two fun-filled days of hands-on learning!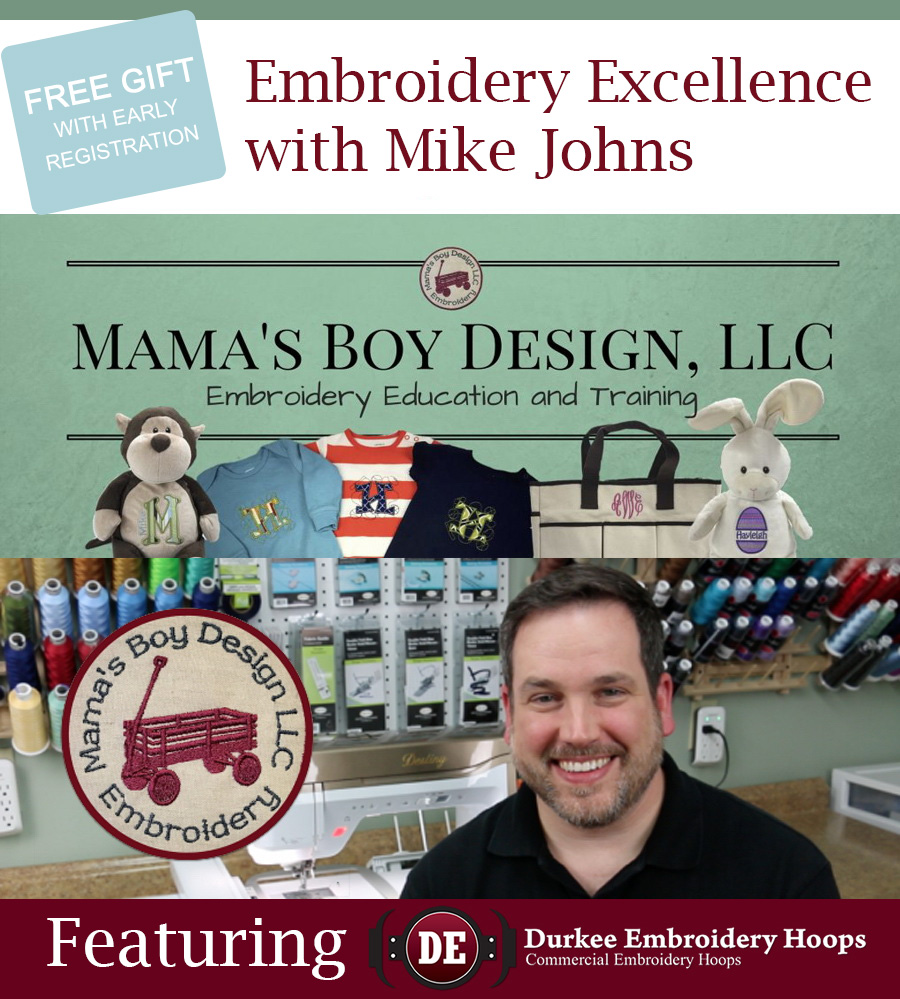 Embroidery Excellence with Mike Johns
July 18-19 at SMP

San Diego, CA

 9AM-5PM OR
July 20-21 at SMP

San Marcos, CA

 9AM-5PM
Join Mike Johns as he takes you through two fun-filled days of hands-on learning as you create projects on embroidery machines using the incredible Durkee EZ Frames and Durkee Cap Frame (YES! You will embroider a cap in class!!) Durkee Hoops make the embroidery process a breeze by eliminating the need to hoop in a traditional manner. Durkee EZ Frames eliminate many of the common problems associated with traditional hooping such as hoop burn, registration issues associated with improperly hooped fabrics, and the difficulty of tightening or loosening tension screws.
The Durkee Cap Frame makes the process of embroidering eye-catching hats a cinch and with an extra-large embroidery field you can stitch larger, beautiful designs with ease. When you combine Durkee Hoops with the top-of-the line embroidery machines you can effortlessly create beautiful, professional looking embroidery projects! This is a hands-on class. All materials needed to complete all three projects will be provided but each attendee should bring basic sewing supplies (scissors, tweezers, point turner, etc.).
| | |
| --- | --- |
| San Marcos Retail Location | San Diego Retail Location |