---
Geekbuying.com Newsletter: 🔥Hinovo Magnetic Wireless Power Bank Sale | From Only $29.99 | 🇺🇸 US Local Shipping
---
Published by Geekbuying.com on August 30th, 2022 7:00am. 4 views.

---
Follow Geekbuying.com: Website
---
You might also like: Geekbuying.com Coupons & Promotions on Contaya.com
---
---
| | |
| --- | --- |
| Flexible Phone Holder $8.99 | ITEHIL 100W Fast Charger $37.99 | View Online   |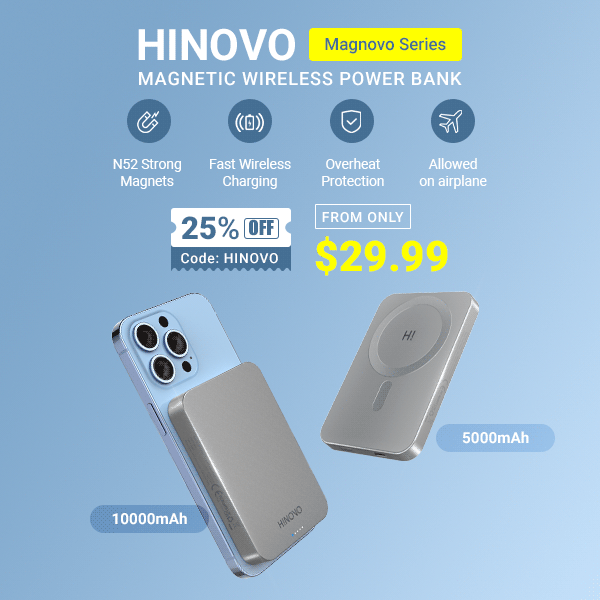 Strong Magnets, Strong Attachment
 
The magnetic wireless charging Battery Pack is equipped with an 18-piece magnet to ensure the charger remains securely attached to your phone.
 
 
10000mAh Wireless Magnetic Battery Pack
 
Battery pack contains power for 38 hours video playtime and contains power to charge for an iPhone 13 2.4 times. Take it with you on the plane, away on business, or on a camping trip.
 
 
Compatibility
 
Designed for the iPhone 14/13/12 series. If for your iPhone is with phone case, then the case should be mag-safe case or magnetic technologies case.
 
 
Simultaneous Wireless & Wired Charging
 
Equipped with a 20W power delivery outlet that delivers fast charging, supporting wireless and wired charging at the same time. And Charge your Phone & Power Bank at the Same Time.
 
 
 

 
- Fits All 12-18" Cell Phones
- 800mm Length Flexible Arm
- 360° Adjustable
 

 
 

 
- IPX7 Waterproof
- Low Noise
- 360° Rotary Dual-blade
 

 
 

 
- 100W Powerful Output
- 4-in-1 Portable Wall Charger
- Built-in Smart Chip
 

 
 

 
- Intel Celeron N3950 CPU
- Windows 10, Dual Band Wifi
- HDMI x 2 Output Ports
 

 
 

 
- 0.06x0.06mm Fixed Focus
- Built-in Air Assist,460*810mm
- NEJE WIN Software, Android App Control
 

 
 

 
- 24QT Large Capacity, with E-Recipes
- 3 Layers of Heating
- Easy-use Knob Operation
 

 
 

 
- 240V AC Input, 120V AC/240V AC Output
- Split Phase 50/60Hz, Battery Charger
- Off-Grid, 18000W Peak
 

 
 

 
- 52V 24Ah Battery
- Max 65Km/h,60Km Range
- 150KG Max Load,40° Climbing Angle
 

 
Download the App
Connect with us
 
Ensure delivery by adding newsletter@edmlist.geekbuyingforum.com to your Address Book. You received this email because you either registered, subscribed, or have shopped at Geekbuying. The purpose of this email is to inform you of our new arrivals and discounts. We keep all user data including emails safe and secure. Please read our detailed Privacy Policy.
 
Note: Products are limited and may be sold out at any time. Prices are subject to change.
Please do not reply to this email for it's a notification-only address.
 
©2012~2022 GeekBuying Inc. All rights reserved.
If you do not wish to receive any further e-mails from us please click here to .
 
---
---
---