Bowling.com Deals Newsletter: Just for you 🎁 ➡️ Coupons, Cash Back, Doorbusters & Deals
---
Published by Bowling.com Deals on December 14th, 2019 7:02am. 31 views.

---
---
$5 OFF orders of $50 or more
Code: INSTANT5

$10 OFF orders of $150 or more
Code: INSTANT10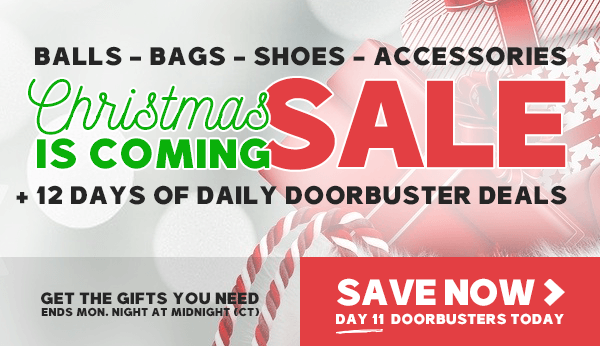 The "Christmas is Coming Sale" is filled with all the gifts you still need! There are only 3 days left to take advantage of guaranteed free delivery by Christmas! We have ALL NEW 24 Hour Doorbuster Deals today to help you finish up your holiday shopping! Visit the sale page to reveal the discounts! And don't forget your coupon above for extra savings and the Cash Back offer below!
Cash Back Program Details / Conditions
- Order must be placed between December 3rd and December 17th, 2019.
- 5% cash back will be calculated based on your item total (excluding fees & services) minus any discounts used.
- You must submit your email address with your order to participate. You will receive your final cash back amount and a link to use it via email after the earning period ends.
- The cash back earned can be used on orders placed between January 6th and the end of day on February 5th (CT).
- There is a $50 limit for cash back earnings. The earnings can only be used on Bowling.com. If not used by February 5th the cash back earnings will be forfeited.
DECEMBER GIVEAWAYS
The Roto Grip Wild Streak has plenty of traction but goes long on medium to med/heavy oil. And the Motiv Tank Blitz is tough and strong, combining the best of urethane and reactive resin.

Enter Now  >
Need help? Call our friendly staff at the number above. Our customer service reps would love to help you find the products you're looking for!
Coupons not valid with instant bonus, doorbuster, flash sale, hot deal or buy one get one free items.
Visit Bowling.com to read about our pricing and offer details.
You can read our privacy policy. This email was sent to . Want to stop receiving emails at this address?
Bowling.com, 3540 NE Stallings Dr, Suite 102 Nacogdoches, TX 75965
1-800-441-2695 | 1-601-500-7015 | HelpDept@bowling.com
© 1999-2019 Bowling.com All Rights Reserved


---
You might also like: Bowling.com Deals Coupons & Promotions on Contaya.com
---