Whistle Newsletter: ⏰👉ONLY 1 Day Left 💘: Submit Your #WhistleLoveLetters!
---
Published by Whistle on February 13th, 2020 9:00am. 33 views.

---
---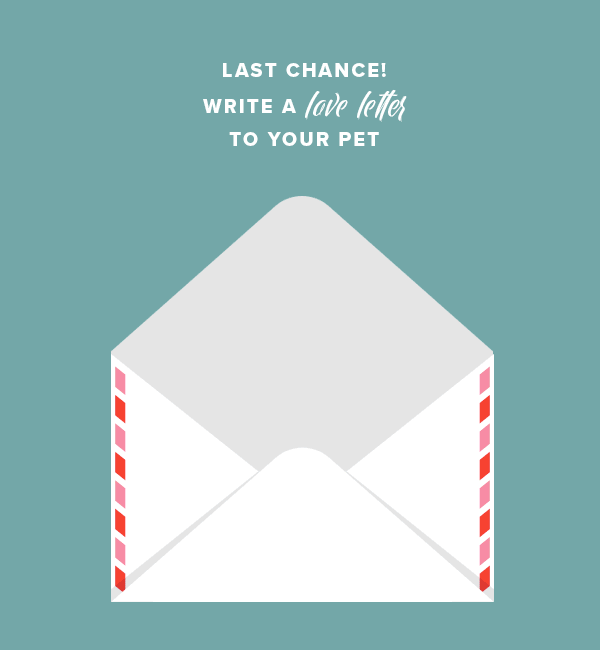 ONLY 1 DAY LEFT to submit entries for the #WhistleLoveLetters Valentine's Day Instagram contest!
5 lucky pet parents will get a Whistle + WISDOM Prize Pack, including a Whistle GO Explore, a festive Whistle collar and a WISDOM PANEL HEALTH DOG DNA TEST.
By noon PST on February 14, post your love letter to Instagram. Include a photo or video and use hashtag #WhistleLoveLetters
Our internal team of Whistle staffers will evaluate all entries based on the following criteria:

1) creative writing
2) quality of image/video
3) embodiment of the love you have for your furry family member

What a great Valentine's Day way to honor your beloved pup!

But hurry, your pet is counting on you, and there is only ONE DAY LEFT! Contest closes at 12 noon PST on Friday, February 14th. Winners will be announced on Valentine's Day: Friday, February 14, at 5pm PST.
1 entry per dog; if pet parent has more than one dog, they can submit 1 love letter/post per pet.

By sending us your photos and videos, you are agreeing to our standard Terms of Service and the additional terms set forth below.

ADDITIONAL TERMS OF USE FOR PHOTO AND VIDEO SUBMISSIONS

By submitting your photo(s) or video, you agree that such photo(s) and/or videos and the accompanying information will become the property of whistle.com and you grant whistle.com, Whistle Labs and their affiliates and sublicensees permission to publicly display, copy, reproduce and use the photographs and video in any form or media, whether now known or hereafter devised, for any and all editorial and related promotional purposes without making payment or other remuneration to you or any third party. You represent and warrant that (i) the photo and/or video is your original work, or is properly licensed by you, and does not violate the copyright or any other personal or property right of any third party, and (ii) you have obtained any and all releases and permissions necessary for us to publicly display, copy, reproduce and use the photo and/or video as described above. Your submission also allows Whistle.com to edit, crop or otherwise alter any submission as it chooses.



Whistle Labs, 1355 Market Street Suite 210, San Francisco, CA 94103
Manage your or here.
© 2020 Whistle Labs

---
You might also like: Whistle Coupons & Promotions on Contaya.com
---